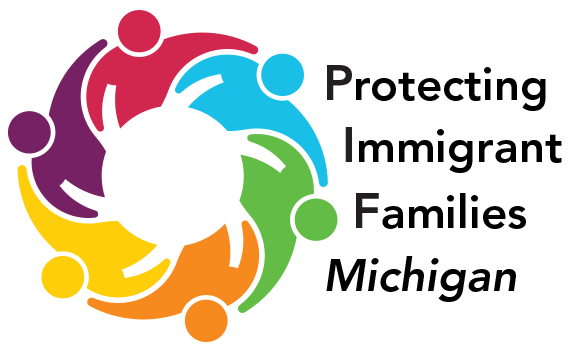 [Update as of 2/2/2021]  Today, President Biden signed an Executive Order entitled, "Restore Faith in Our Legal Immigration System and Promote Integration of New Americans" - This order includes rescinding the harmful public charge rule enacted under Trump. The Protect Immigrant Families - Michigan coalition worked hard over the last four years to advocate against the public charge rule change, and encouraged hundreds of Michiganders to submit public comments. President Biden's actions today will restore paths to family-based immigration and improve access to health and nutrition programs for many families in our communities.  We will update this website wtih additional details soon.
[Update as of 11/04/2020] -- Earlier this week, the Northern District of Illinois issued a decision vacating the Department of Homeland Security's public charge regulations nationwide. Unfortunately, this morning, the Seventh Circuit Court of Appeals stayed the decision pending its appeal, meaning that the DHS public charge rule can now be implemented while litigation continues. Multiple cases continue, including a case challenging the Department of State's (DOS) public charge rules and the President's Health Insurance Proclamation. The preliminary injunction in this case is still in effect nationwide. Please stay tuned for further developments, as the situation evolves.
[Update as of 01/27/2020] -- The U.S. Supreme Court granted the government's request to allow the new public charge rule to go into effect nationwide while the lawsuits regarding the rule remain ongoing. This means that the DHS rule can go into effect nationwide, except in Illinois where it is blocked by a statewide injunction. We continue to fight , and still community, practitioners, and advocates should prepare for the rule to be in effect indefinitely. You can access the complete final rule here. You can access a comprehensive FAQ and Analysis of the rule here.
The new rule threatens to force many immigrants and their families to fear they must choose between accessing essential public services and keeping their families together. Protecting Immigrant Families Michigan is a collaborative campaign of the Michigan Immigrant Rights Center, the African Bureau for Immigration and Social Affairs, ACCESS, the Michigan League for Public Policy, the Detroit Hispanic Development Corporation and Voces.
[Update as of 02/24/2020] -- The Department of Homeland Security (DHS) rule went into effect.  All applications that are subject to the public charge test postmarked on or after this date will be adjudicated under the new DHS public charge rule.
[Update as of 07/29/2020] --  Based on a decision from a district court in New York, the Department of State rule and public charge-related changes to the Foreign Affairs Manual have been blocked.  However, this decision does not affect the DHS rule that is applied to applications made within the United States - this rule is still in effect.
What We Know
The Supreme Court's ruling means the new public charge regulation will take effect, for now. Litigation is still ongoing and no final decision has been made if the regulation will remain in effect permanently.
Many immigrants will not be affected. The public charge rule does not affect people who cannot or do not plan to apply for a green card. The proposed changes do not apply to people who already have a green card, are renewing their green card, or are applying to remove conditions on their green card (unless the green card holder plans to travel outside the U.S. for longer than 6 months at a time). It does not affect those applying for citizenship, those applying for or who have asylum or refugee status, a T-Visa, U-Visa, SIJS or VAWA. Most families can continue to get benefits they're eligible for, without it affecting their immigration options.
Family-based green card applicants may be affected. The new public charge rule will consider numerous factors such as the applicant's age, health, income, assets, resources, education/skills, and family supported. Positive factors, like having a job or health insurance, can be weighed against negative factors, like having used certain benefits or having a health condition. Either way, you will have a chance to show why you are not likely to rely on certain benefits in the future.
Using public benefits will not automatically make you a public charge. The rule explicitly states that use of benefits by US citizen family member, including children, will not be held against the green card applicant. Additionally, most immigrants who are subject to public charge are not eligible for the programs listed in the rule. As a result, it's unlikely that there is any reason for most mixed-immigration status families in the U.S. to close benefits cases. The main impact of the rule will be to change the income and asset rules for family based immigrants and make it more difficult/impossible for them to pass the new public charge rule.
To stay updated, join our PIF - Michigan Listserv.
Community Education Materials
Research and Analysis
Recent News
PIF Michigan Toolkits