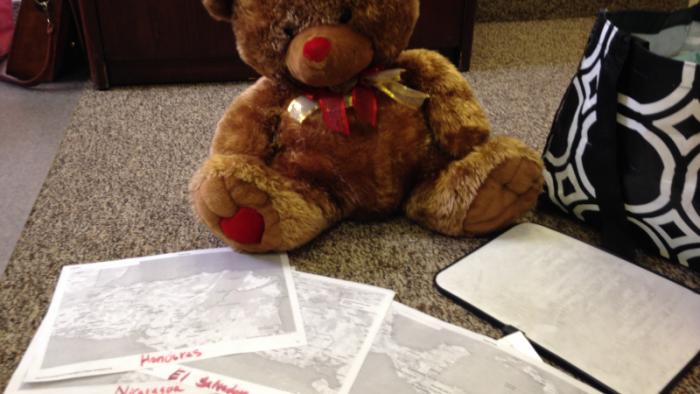 Valentino the Traveling Bear by Ana Raquel Devereaux
Meet Valentino. He has been in airports, crossed international borders, resided in a variety of settings, and now finds himself with his main place of residence in the a little corner chair in my office on 3030 S. 9th St. in Kalamazoo, Michigan. Valentino has been my personal companion for the past twelve years. Originally as a gift from my dad while away on a business trip, Valentino then accompanied me from Kentucky, to the Dominican Republic, and finally to Michigan. Now, Valentino has been promoted from personal companion teddy bear, to an official part of my legal team.
"His job description?" you might be wondering. Well, he serves as friend and comfort to children who have made long journeys, who have crossed borders, seen many unfamiliar places, and now find themselves residing in Michigan too. Valentino's presence is required at all meetings with my child clients. My clients who are as young as one year in age, but most are between 9 and 14, have gotten to meet with Valentino while beginning to share their stories with me. Valentino has played, listen, and been the recipient of many hugs from client arms.
Valentino is very happy with his job at the Michigan Immigrant Rights Center; he especially likes his spot in the travel bag that makes its way to the Dominican Center at Marywood in Grand Rapids for client meetings based out of that city. Valentino understands that he plays an important role in two essential activities central to representing Unaccompanied Children (UCs) through their immigration proceedings. The first is the key practice of acknowledging each client's unique story and possible trauma and providing comfort. The second activity is to treasure the client's childhood. Just because they have traveled great distances alone and are now in this strange and intimidating process called immigration court proceedings does not mean they are not children with their childhood mind, joys and fears, unique ways of relating to the world around them. Having Valentino the Traveling Bear as part of the UC legal team, is only one of the many ways we seek to represent children in a holistic and effective manner that meets them where they are at.