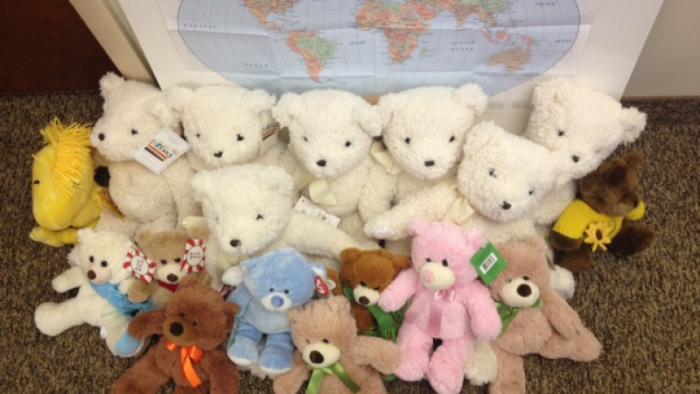 Written by Rebecca Robichaud
In 1999, the then Illinois First Lady Lura Lynn Ryan delivered 2,000 PJ Huggabee teddy bears to help comfort the Kosovo refugee children temporarily living at Ft. Dix, New Jersey. PJ Bears were created in partnership with Marshall Fields - for each bear purchased a bear was given to a child in foster care. According to the press release First Lady Ryan stated that "The children and families of Kosovo left their homeland in such haste, they left many personal items behind. We want to welcome them to our country and give them a little bit of comfort after a long journey." 

I have a PJ bear- a gift from a friend many years ago. Like Ana's Valentino teddy bear, my PJ brings me comfort. Ana's blog about Valentino playing an important part in her advocacy for immigrant children gave me pause because I knew that PJ Huggabee was created to be more than just a teddy bear. PJ was meant to be a sign of comfort and hope to children and a way to raise awareness about the plight of children caught up in a system. But why is it that in 1999 the first lady of Illinois traveled to New Jersey to share PJ as a sign of welcome with Kosovo refugee children and in 2016 the child clients Ana and MIRC represent are largely ignored?  No doubt there are a multitude of reasons. But part of the problem is lack of understanding of what these children and others from Central America are fleeing. 

Just about a year ago, CNN reported on the continuing violence against women in Guatemala, citing a 2012 Small Arms Survey that found "gender-based violence is at epidemic levels in Guatemala and the country ranks third in the killings of women worldwide," and the United Nations finding that two women are killed in Guatemala every day. Many children are fleeing gang violence. The Pew Research Center, citing U.S. Department of Homeland Security documents, reported on the dramatic increase in young (under 12) unaccompanied minors from Honduras, El Salvador and Guatemala noting the migration was largely the result of high rates of poverty and violence in their home countries. According to the Pew Research Center, gang and drug trafficking violence caused Honduras to have the highest rate of homicide in the world, with El Salvador not far behind.  And the first part of 2016 seems to indicate the flow of children from these countries may again be on the rise. If you were a parent and your twelve year old child faced torture and violent death wouldn't you want to send him somewhere safe? Why are we so hesitant to embrace these children?

In our immigration debates, we spend so much time talking statistics and spewing numbers to document the immigrant population. But the children MIRC serves are a sad reminder that each number is a human being with a future, whom we can choose to help encourage and nourish- or neglect and abandon. Our system forces these children to behave like adults in the processes they must endure to obtain legal status in the United States.Telling and retelling to strangers the abuse and neglect they have suffered. As an attorney, I represent asylum seekers who are fleeing persecution in their home countries, and the work can be overwhelming. I have learned of forms of torture I never could have imagined existing and seen the marks of the unendurable suffering. So when I read Ana's blog post about her teddy bear I felt moved to do something in my own small way to reach out and let these children know they are welcome and supported. By asking friends and family to donate teddy bears for these children I hoped to raise awareness of their plight and to provide a small sense of safety and comfort as these children continue down a path not of their making or their choice.