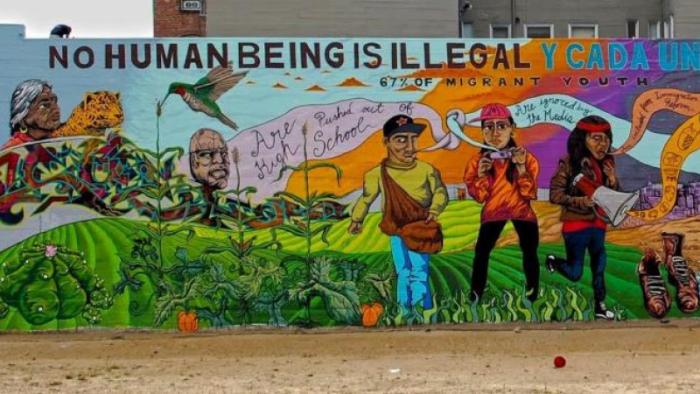 Photo source: pescador72.blogspot.com
I have had the pleasure of constantly being surrounded by immigrants in a variety of contexts in my life. Last year, I worked at a Mexican restaurant and joked with the cooks in the back, all of whom were from Mexico, Honduras or Venezuela. I have gone on various assignments with my father, who is a photographer, to old warehouses in Southwest Detroit that are taken over by musical and cultural projects founded and run by immigrants. I have taught English to recent Mexican, Honduran, Costa Rican, and Nicaraguan immigrants in the basement of a church in Ypsilanti. I have facilitated conversation circles with Chinese, Korean, Iranian, and Brazilian students, eager to practice their conversational English. I taught Kindergarten to the children of immigrants, immigrant children, and children who did not know or care about the potential differences in status of their fellow classmates.
Every story of immigrants I have heard, and every immigrant I have met, has been full of light-heartedness, kindness, determination, and umpteen amounts of resilience. When I worked in the restaurant, the cooks worked 17-hour days, seven days a week, with no complaint. When I conversed with my conversation circle, the students mentioned their intensive workload, working twice as hard as native speakers, as they had to take the same classes all the while practicing and learning the language. After teaching English in Ypsilanti, everyone cooked an amazing dish to share, after a long day of work and classes, in order to properly celebrate.
To me, there is no one way to showcase resilience, nor is there one way to be creatively resilient. Every immigrant I have met has been resilient in their own way, through their determination, their persistence, and their hard work. While they may not be protesting or advocating, they are doing so much for themselves and for their families, especially in a social climate that is terrifying for immigrants, women, minorities, and other intersectional identities. The fact that all of the immigrants I have met continue to do the work they are doing, continue to learn and practice English, and continue their daily lives without fear is not only resilient, it is inspirational.
While I have met a vast array of impactful people and heard a plethora of incredible stories by and about immigrants, the most resilient immigrant I have ever met was a high school student I tutored for a few years. He had recently immigrated from Guatemala--by himself--and had endured more hardship than anyone I had ever met. His journey was lonesome and strenuous, he was placed in detention when he arrived, not given food for three days, not able to see the light of day or know where he was. Eventually, he was released and made the trek to Michigan, where his aunt and uncle lived. He immediately started a new school, in a new language, in a new place, with new people, new faces, and new rules. He was overwhelmed by all that had happened to him and had not been given any time to relax or process his month-long trip nor adjust to his new country. He was determined beyond belief during our tutoring sessions, but exhausted, too.
There were moments when I would look at his notes and ask what he did in class. He told me he would write stuff down in Spanish during lectures, so he looked productive, but did not understand the lectures in English. When I looked at his homework assignments, all of which were in English, we would spend hours trying to translate them and understand them. It was a tough compromise, for while we wanted him to finish his homework, we also wanted him to understand English, but if we spent time breaking down the basics of English and working on vocabulary, he would have not done his homework for the night nor understood the basis of his lecture.
There were other moments where he seemed incredibly beaten down. He would come to tutoring sessions exhausted, no sense of spunk or humor like he usually had, and he would express how he simply does not see the point of being in the US anymore. This was heartbreaking to see. It is all the more heartbreaking to think of his arduous journey, his desire to accomplish the American dream in the beginning, and the crushing reality of his disappointment and exhaustion. Moments like these were difficult, but it does not mean he was not being resilient. He kept putting up a fight, though a tired one, but in no way does that mean he quit or stopped being resilient.
Summer passed and tutoring resumed. A bit of excitement had returned to him as he was in his senior year. He had started working in addition to school. He was working on roofs, which made me incredibly nervous for him, but he said he liked it and liked all the money. He was excited to graduate and excited to finish school and this challenging but rewarding chapter in his life. He was speaking and understanding more English than the year before, which excited both him and me, and his grades were improving. He was playing soccer and seemed happy. While things were not perfect, he seemed content here, finally, and that was a wonderful image. At the end of the school year, at his graduation, I smiled and cheered for him. He looked determined, passionate, and most of all, resilient.