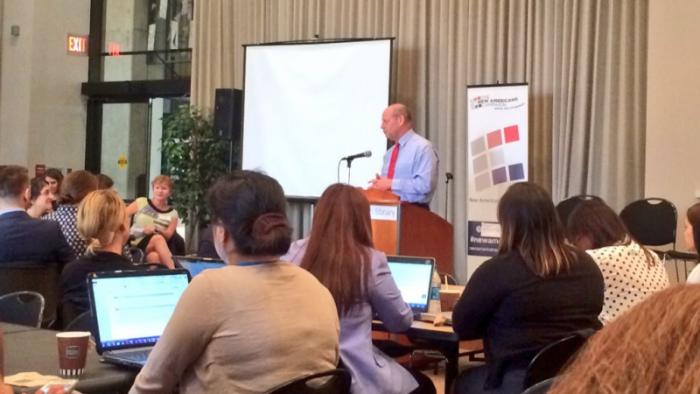 One of the many highlights of the work we do at MIRC is helping people become citizens. (We hope to share more of these stories on MIBlog soon). We are a member of the Detroit New Americans Campaign, a local collaborative of five immigrant-focused nonprofits and legal service providers that promote and assist with citizenship. Together, this Detroit collaborative has assisted over 3,500 Michiganders apply for citizenship in the past few years, for free.
We are able to do this work through the generosity and support of national funders, collaborators, and legal service organizations under the umbrella of the national New Americans Campaign  (NAC). Last week, the NAC held its annual conference, in Dallas, TX, for sites across the country to come together and share best practices with the goal of helping more permanent residents naturalize. (Click HERE to watch Dallas' Univision 23 news coverage of the event: this is a great clip to share with Spanish speakers interested in learning more about the benefits of citizenship and requisites to apply).
The conference officially began with a working group meeting with U.S. Citizenship and Immigration Services director, León Rodríguez, to ask direct questions and then, an official welcoming from him. Director Rodríguez emphasized the importance of promoting and assisting with naturalization as there are, currently, over 9 million permanent residents (LPRs / green card holders) in the United States who are ready to naturalize. This is the highest number of LPRs who can become citizens ever but for various reasons, have not taken the next step. It is both of our missions to encourage naturalization and make the process easier. Director Rodríguez talked about steps his agency of 19,000 is taking to promote citizenship, which includes credit card processing for applications, attempts to keep the fee stable, and hopefully, the possibility of a partial fee waiver for low-income families who live between 150% and 200% of the federal poverty level. As a participant at the NAC conference, I really appreciated the opportunity to ask the director questions and hear about his passion for achieving some of the same goals.
Throughout the next few days, we participated in breakout sessions on best practices for outreach to permanent resident populations, increase efficiency, utilize technology, create stronger partnerships/collaborations, and so much more. One of the presenters mentioned a quote from Andrew Hargadon, a professor of entrepreneurship at UC Davis: "innovation is about connecting, not inventing." This is what we are charged with doing and hearing about the developments at the NAC sites in New York, Los Angeles, San Francisco, Dallas, Houston, and elsewhere across the country energized me to continue our efforts in doing so in Michigan. Of course, we also shared best practices that were honed here with the other sites, specifically in regard to helping disabled applicants apply for citizenship successfully and leveraging social media to tell stories.
Additionally, the programmers behind CitizenshipWorks previewed the next version of the web-based, self-help naturalization screening and preparedness website. We are speaking with them to see about rolling a version out in Michigan for virtual assistance with naturalization applications. When this happens, we'll be sharing the news widely.
After a busy two days in Dallas, I returned to Michigan reinvigorated to bring so many new ideas to the communities we serve so that more permanent residents will be able to naturalize and create a stronger, more welcoming Michigan.
Ruby Robinson is a supervising attorney with MIRC, based in the Ann Arbor office.