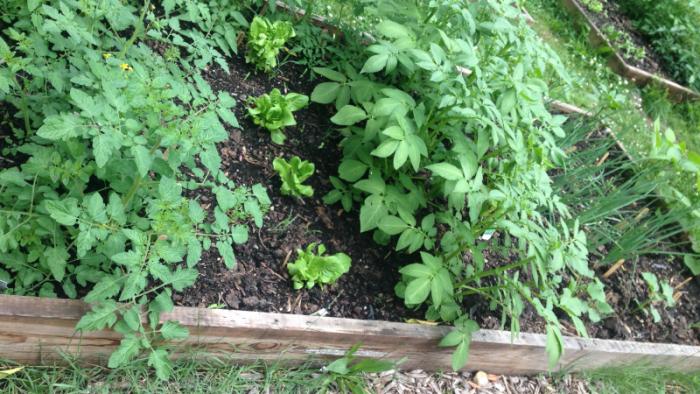 A community garden in Kalamazoo
When one thinks of an attorney-client relationship, many things probably come to mind, but I doubt that harvesting potatoes and making homemade tortillas is one of those things. However, on a recent Saturday afternoon, that is exactly what a day with some of my clients looked like. Let me take a step back to give you the whole story here.
I met my client, Paola*, and her family at immigration court earlier in the year. As a young teenager who had come to the United States alone without any parent or family members who now was coming before the immigration court, Paola qualified for our representation.   When I first observed Paola in front of the immigration judge, her gentle and sweet spirit was evident. In response to the judge's question Paola's mother also stood up and proudly declared that she was Paola's mother and that Paola had been under her care since she arrived. I could already tell that this was a tightly-knight family and that Paola had the blessing of supportive parents during the difficulties of navigating the immigration process.
Paola and I met on various occasions to prepare her application for asylum. Paola and her family and I developed a great relationship of trust and understanding as they shared the many struggles they had endured and fears they had of what would happen if Paola returned.
Thanks to the Grand Rapids Community Foundation, the Kellogg Foundation, and the justiceAmericorps program, among many other supporters of MIRC, we are able to offer our services to clients like Paola free of charge to her or her family. However, on many occasion Paola's family would express endless gratitude and how they wished they could repay us for the work we were doing in giving them hope and helping them navigate the complicated and frightful waters of the immigration process. I emphasize to them how repayment is not something we seek from them, but I still always sensed their longing to do so.
The day finally arrived for us to travel to Chicago for Paola's asylum interview, which would allow the asylum office to decide whether to grant Paola the permission to remain in the U.S. with the protections of asylum.  The trip meant many hours in the car and in the city with Paola and her family. As we were making conversation about the family's life in their home country, Paola's mother told me that she and her husband met while working on a potato farm. As it turned out, I have a plot in the community garden near my home in Kalamazoo and this year I had decided to plant potatoes for the first time. When I mentioned my novice in knowing how to handle the potato crop to Paola's mother and how I'm sure I could learn a thing or two from them about it all, the plans began to ensue.
Before you knew it a few weeks had passed, the plans had been made, and my potatoes were ready to be harvested. Paola, her mother, her two sisters, her bother, brother-in-law, and nephew all arrived at my home on a damp but sunny Saturday afternoon all bubbling over with excitement about the things they were going to get to teach me that day. We began the day with introductions as we all met and they met my husband for the first time. Then we went to check out the potatoes. Paola, her mother, her older sister, and I all went out to the garden. They began to teach me about the different plants they observed, what the plants were called in their native dialect (which is different than the Spanish language we were speaking in), and how they would typically cook that vegetable in their home country. Paola's mother taught me how to properly harvest my potatoes to get the best crop and I was able to use her technique to harvest the rest of the potatoes. We then returned to the house for a joyous time of Paola teaching me how to make corn tortillas by hand from scratch. She would giggle and laugh when I couldn't master the technique that came so naturally to me. The taught me the words for potatoes and the other things we would encounter in the kitchen and exclaim with joy when I would repeat the word back to them. Finally we all sat down to the meal we had prepared together. The meal we shared was delicious in every way, but even more so was the shared company and learning from the many skills and experiences my client and her family had to offer. As Paola and her family left to return to their home that day, that feeling that they had expressed in the past of imbalance at receiving services and not being able to repay was gone. They left content and empowered that what they had to offer was valuable and precious and this attorney-client relationship was one of mutual exchange and joy.
*Name has been changed to maintain confidentiality.