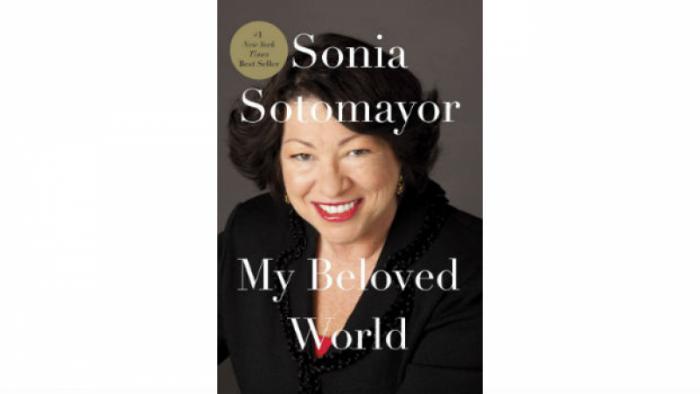 I just recently made a weekend trip to a few of our lovely public libraries in Kalamazoo. While there, I came across an audiobook version of Justice Sonia Sotomayor's memoir, My Beloved World. Interested in learning more about the life of such a historical figure in our American society and looking forward to the prospect of having interesting content for my many long hours in the car driving all over for client meetings and court hearings, I checked the audiobook out, popped it in in my car radio, and began the listening journey.
A few days later, it was a very early morning heading to the immigration court in Detroit. One of my child clients and her family drove with me that morning to the court, as they had on many occasions before. The many drives and meetings before had allowed me to know this client and her family well. I initially met this client when she first came to the U.S. from Latin America. From our first meeting, I could see how eager she was to learn English and also to understand the ins and out of her immigration case, despite her few years of age.
That morning, as the child's mother proudly told me how well the client was progressing in her English, the thought occurred to me that an audiobook, like the one already in my CD player, would be a great way for her to continue to work on improving her English. So I began to tell them about audiobooks, and how they could get them at the library, and then specifically about the one I was listening to.
As I began to describe who Sonia Sotomayor was, the child's eyes got big and full of wonder. Upon hearing that Justice Sotomayor was the first Latina to sit on the bench of the United States Supreme Court, I sensed that new worlds of possibility were unfolding before her for the first time.  It was only as I described Justice Sotomayor's accomplishments and what I had learned of her life through the audiobook that I remembered that this client, was the only one of my clients who had expressed any interest in being an attorney. Now, not only was the idea of an attorney a tangible dream because of her many interactions with me, but even the highest level of achievement for a lawyer in the U.S. seemed like a possibility she could strive for, since someone like her, a Latina, had been able to reach such heights.
We hit play on the audiobook and listened to a few chapters together.  For a long while, even after we had paused our listening, the child held on to the case for the audiobook, with Justice Sotomayor's picture on the front and words of her life on the back. The child would take occasional glances at it as she clutched it tightly. I could only imagine what that book and its author had come to mean to the child in the short time since she encountered it, but it was obvious it held great meaning and dreams of the future.
This child had had quite the journey in coming to the U.S. and the journey did not end once she was in the safety of her mother's home here in Michigan. As a child facing deportation proceedings and continual uncertainty about what the next months and years would bring, she could have easily been defeated and never looked beyond her day to day. But as she joined a school that welcomed all children, embraced diversity, and did not make her feel like an "other," as she had advocates on her side assisting her and fighting every legal battle on her behalf, as she had the security of a loving home where education and dreams were encouraged and valued, she dared to envision a future of possibilities unhindered by the barriers that might have historically held someone in her position back.
Justice Sotomayor describes in her memoir the power of examples in allowing her to become an attorney and eventually a judge, even if these examples existed only in TV shows. On this day riding to court, I could see in my client's eyes the great power of real life examples, whether a small time example of her own immigration attorney sitting in the car with her, or the larger-than-life supreme court justice whose face was on the cover of this audiobook she held in her hand. I look forward to seeing the paths my client takes in her life and how she may one day look back see all those who have looked to her example and been given the hope to dream.