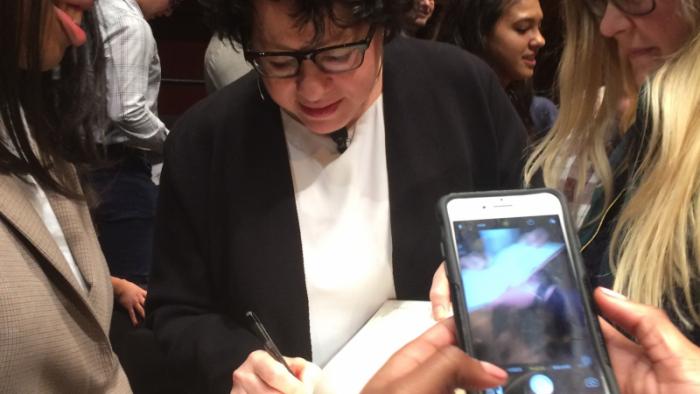 The University of Michigan is celebrating their bicentennial this year – 200 years since a bill was enacted establishing a University of Michigania. Their first event, the inaugural Presidential Colloquia, took place on Monday, January 30th at Hill Auditorium. The first colloquium appropriately celebrated the University's past by looking towards the future and examining what type of university community should we strive for. Justice Sonia Sotomayor of the United States Supreme Court and Justice Susanne Baer of the Federal Constitutional Court of Germany both provided their idea to make Michigan even better: diversity.
Both justices come from diverse backgrounds and represent different firsts for their respective courts. Justice Sotomayor is the first Hispanic justice to the Supreme Court, while Justice Baer is the first lesbian on the Federal Constitutional Court of Germany. Both are advocates of human rights and equality. Justice Sotomayor has consistently argued for equality in education as a vital step to achieving equality in life, while Justice Baer routinely consults the Universal Declaration on Human Rights as a guide for fundamental principles.

The town hall included a discussion about the importance of diverse ideas, perspectives, and experiences for personal and professional growth. Both women referenced how their experiences with people inform the difficult legal questions that they face in court, and reminded the audience to continue to engage in conversations from a place of respect. Justice Sotomayor referenced her experiences from college up to the Supreme Court: experiences where she pushed herself into discomfort in order to understand and find similarities with someone who seemed very different.

The responsibility of maintaining diversity hinges at all levels, not only universities. Justice Sotomayor emphasized the need of federal judges to provide mentorship to individuals from all backgrounds. She proudly shared that one of her law clerks is the first Supreme Court clerk that is of native Hawaiian descent ever and asked schools from around the country to nominate and assist students in such endeavors. Such a message was even more powerful when students on stage for the colloquium represented diversity groups on campus including the Michigan Journal of Race and Law, Spectrum Center, Latino Law Students Association, among others.
 
This message of diversity in race, ethnicity, gender, religion, sexual orientation, and class seems increasingly important given the present division of our country. This colloquium came only days after President Mark Schlissel of the University of Michigan reaffirmed that the University will not disclose immigration status of students, responding to an executive order by President Donald Trump that bans immigration and travel from many Muslim-majority countries. Activism and speaking out is at the top of people's agendas, but the Justices remind us to approach individuals with respect, to listen as much as we speak, and to find the passion in each person.

All of the topics of this event continue to resonate with me as I dive in further into the immigration work at Michigan Immigrant Rights Center (MIRC). Migration should be a basic right afforded to individuals and focusing on acceptance and diversity initiatives is the best way to work towards that. MIRC engages in the promotion of diversity daily and has been dealing with far too many cases where an individual's experience does not reflect these values. It is really important to recognize how we are a nation of immigrants; how these diverse perspectives help us to improve our relationships as well as innovate throughout industries. In light of all of the contrary messages in the news, it is great to engage in work that promotes diversity.
*Raina Bhatt, one of MIRC's law clerks, is a third-year law student studying at the University of Michigan Law School.